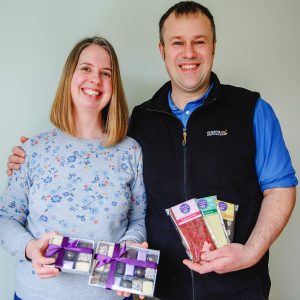 We're Claire and Bertie Bingham – the husband and wife team behind Butterflies Chocolates. Eating chocolate is about so much more than scoffing a sweet treat. Good quality chocolate is a chance to slow down and savour, excite your palate with new flavours or comfort yourself with familiar ones.
A piece of good chocolate is a piece of the good life. Perfect for celebrating, commiserating, relaxing or pepping yourself up.
We think so anyway. We created Butterflies Chocolates from a love of experimenting in the kitchen with chocolate recipes (both of us were teenage chocolatiers – Claire was given a chocolate cookbook for Christmas when she was 13!) and enjoying our creations with family and friends. Helping people share quality chocolate has now become our fulltime profession, and passion.
The action takes place in our purpose-built chocolate kitchen in Pocklington, where we're always looking to refine and grow our ranges. We now have mini-helpers to advise on flavours too, in the shape of our two young children (they recommend the strawberry and vanilla!).
Chocolate-making is both an art and a science, and we relish the opportunity to put our technical backgrounds to good use: Bertie has a background in food science and Claire is a biochemist. Creating smooth, sleek chocolate is a meticulous business, and we're proudly pedantic about getting it just right!
You won't find any shortcuts in Butterflies Chocolates. We don't add any preservatives to extend the shelf-life of our creations (our customers tell us this isn't a problem!). And there are no artificial colourings or flavourings either.
Spices are freshly ground for each chocolate batch to ensure they're at their best, our honeycomb is created using local Yorkshire honey (unlike the stuff you find in shiny gold wrappers!), and our pralines are made in our chocolate kitchen with freshly caramelised nuts.
Great chocolate starts with great ingredients. Our Belgian chocolate supports cocoa farmers and sustainable growing practices (as well as being the best chocolate we've ever tasted!). We're proud to use local produce, such as Oak Smoked Yorkshire Rapeseed Oil smoked by Staal Smokehouse, and Roost Coffee. We cultivate our own herb garden too – you can't get any more fresh and local than that!
What chocolate do you love? We want to help you find the perfect chocolate for your occasion or mood. Head over to our shop to browse and order online, book a workshop to create your own, come and see us at an event, or feel free to contact us if you have something in mind for a special occasion, or an idea you'd like to see brought to life.